DesignModo has received much praise in the past bringing great, intuitive, and well-designed tools to the market and so we decided to put together a review of their product, the Slides Framework.
Now, before we start off, it is important to understand that this product is not for everyone and this review is by no means a comparison of capabilities against WordPress. With that said, everyone's requirements are different and if you are looking for a convenient and super time effective way to create a simple one-page website then you should definitely turn your head towards Slides' direction.
Some people do not require a full-fledged website and it can be wasteful to set up WordPress when all you need is a promotional page, a professional-looking contact page or anything along those lines. For all such needs, Slides can provide you with a much better alternative in terms of effort and the time you'll need to invest in development.
Simplicity adds value!
What are Slides?

As mentioned above, Slides is a framework by DesignModo. It is based on its own CSS3, JavaScript, and HTML5 language with a unique code and structure that lets you create, with minimum effort, visually captivating single-page websites with a lot of built-in options. It basically consists of 64 slides that you can use in whichever combination you'd like in order to create your own unique website. This website would, of course, display its content in a transition slider manner i.e. only one slide is displayed at a time and the slides keep changing as the reader scrolls.
This becomes a fluid manner for presenting content and looks great while working the part too. It is easy enough to be used by just about anyone with a little bit of web development knowledge (HTML, FTP server). You can view a general demo of how Slides works here.
Slides Features
1. Time Saving
Time is on your side if you are working with Slides. You start out by logging into their online interface which is called Generator. From there on you simply go along selecting from the wide range of slides and put them in the order you want them in. You will then set up the animations you'd like for the transition effect between slides and preview what the finished product will look like. If you are happy with what you see then you can download a .zip file containing what is essentially your website ready to be uploaded to your hosting server.
This whole process can be completed in minutes and it is fairly simple and easy. Keep in mind that you will need to edit and replace the demo data and images with the one's that you plan to publish. Although this is a simple task for someone with basic programming knowledge it can be tricky for someone who's not the least bit programming literate.
2. Comes with Templates
Slides come with a library of 64 slides that you can mix and match according to your preference and it can result in some pretty amazing end products. But if you find yourself at a loss then DesignModo has 15 well-balanced templates with a great design that you can pick to start your website with – there are options for everyone here! Beautiful slides, retina ready display, and tons of options to choose from for background images or a white background if that is more suited towards your needs.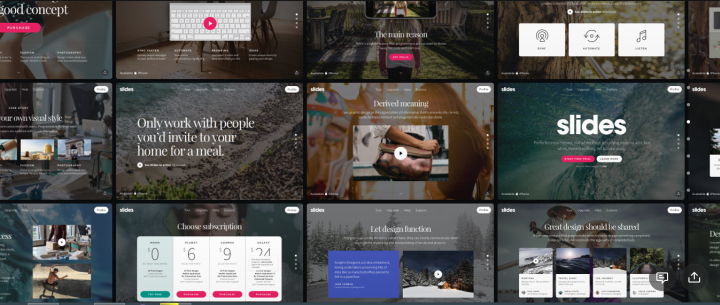 These slide templates can be arranged in whichever way you'd like so they can be presented as a variety of things – event sales, personal promotions or campaigns, product launches – making your workflow much easier all the while giving your a ton of flexibility. You also have the ability to directly add images from sites such as Unsplash and Pexels for obtaining more free images for your projects.
3. Amazing Animation Effects
Slides also ship with custom animations that you can add to your slides. While these might not be the flashiest of animations out there, they are well-suited and bring subtle brilliance to the overall presentation of your website.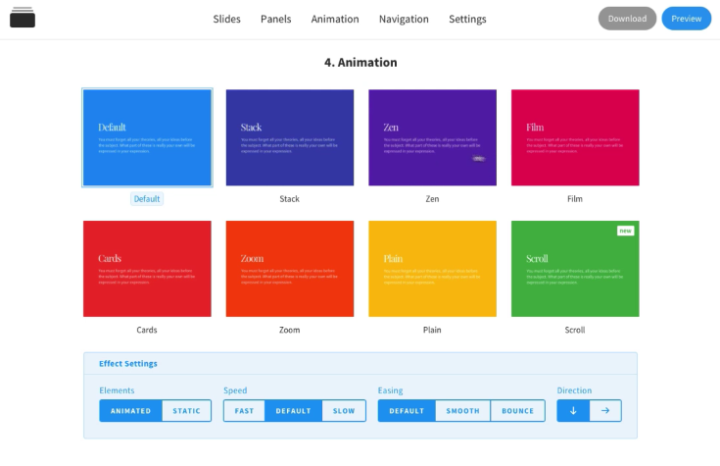 There are a number of different animation styles to choose from, such as Stack, Zen, Zoom, and Film among others, and effects setting panel that lets you set up the speed and smoothness of your slide transition animations, as well as the option between animated and static elements. You can also change the direction of your slide transition i.e. have your site scroll vertically or horizontally, from this panel.
While these may not seem like a lot of options, not many are needed when you are working with what Slides is providing you with. Which happens to be a good thing as all of them look decent and there is no need to spend a great deal of time experimenting with what fits best.
4. Huge Components Library
Slides ship with a huge components library that features unique and stylish elements to help you add more visual appeal to your custom slides. Webmasters can make creative combinations of various components to create a masterpiece without having to code a single line. The wide-range of carefully crafted components empowers users to elegantly present their business to visitors.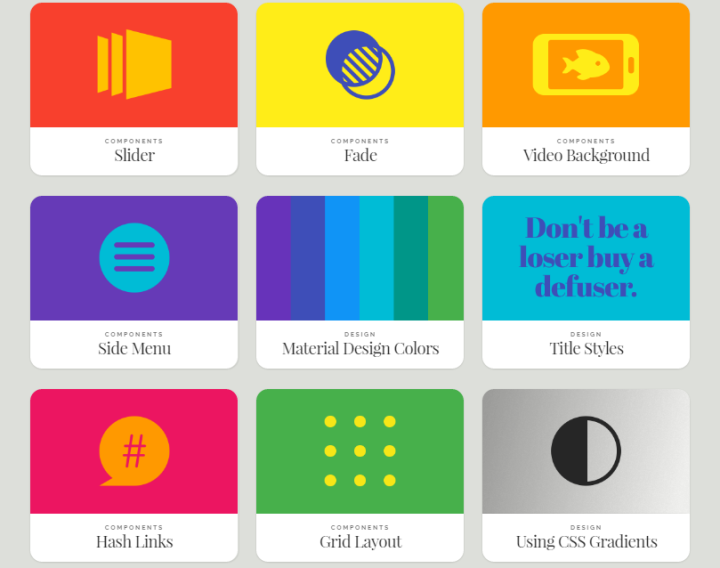 According to user reviews, Slides offers an all-out designing platform that enables users to create all kinds of landing pages. By leveraging the different components, users can quickly piece together a unique, custom landing page within minutes.
Some of the most commonly used components in this space include buttons, videos, images, pricing tables, testimonials, e-commerce elements, background images, and much more. In addition to this, all of the components are fully customizable which allows users to modify them to fit their site's brand. Landing pages are vital to the success of any business and Slides' huge library of components makes it infinitely easier to create them without having to invest a significant amount of time.
Advantages of Using Slides
So now let's break this down to what really is the advantage of using Slides.
1. Speed
In one word that would be speed. However, more than a word is needed to do justice to Slides and that is because at the core there are many different, highly useful features that give the product its real-world execution speed. These core features include the production of clean code for you to use – and as many times as you want at that. Once you buy Slides, you can use it to create as many websites as you want and if that is something that you have been looking for then it is a real sweet grab.
If you are to create a lot of websites then variety is a must. Slides are strong in that department giving you virtually unlimited unique website layouts that you can build. It is the perfect, minimalist variety house!
2. Simplicity
And then there is the simplicity in using Slides which in itself is an easy process with no confusing options or having to tinker with numbers and values. You can be done with the entire design in a few clicks. Last but not least, websites made with Slides look gorgeous! All you have to do is lay your eyes upon one to see for yourself and there are not a lot of other alternatives that will allow you to create a website with such elegance while still requiring the same amount of minimal effort required. This gives Slides a big plus with its target audience.
Disadvantages of Using Slides
Now, what about the dark side of this great tool? Not that it should come as a surprise to anyone reading this review, but Slide's greatest features are also its limitations. Slides cannot be used to create multiple page websites and that sets it aside in a different market — they have added this option in Slides 2. This product is not for everyone especially those who have different requirements.
Some HTML / CSS Knowledge is required
There is also the fact that, though not very much, some HTML knowledge is required in order to make the final website and that can be problematic for people who do not have programming knowledge and may require them to hire a developer to help them out. There are many great online resources available that provide great guidance about the things required for replacing the demo data with your own to upload on your hosting server, but these too, of course, would cost you time and effort to learn which ultimately beats the purpose of a speedy solution.
A bit Expensive
Another disadvantage can be the rather high price which is fine if you plan on making a lot of websites. However, if you purchase Slide's only for the purpose of creating a single website then it is a very costly solution and this factor seemingly isolates it from that target market as well.
Pricing Plans
DesignModo has put a price tag of $249 on Slides and what you are basically paying for is getting access to Slides Generator, the magical gorgeous website generator, for as many project and websites as you desire to make with it. You also get all the videos and images that come with Slides Generator (as they are under CCO license) that are used in the background as well.
In addition to all of this, you also get a manual page on their website to help with the setting up process and there is also customer support which is currently exclusively available on their Contact Us form. DesignModo also plans to update the Slides Framework and you can view a log of the changes that they've made so far since the launch of the product on their website.
Wrapping It Up
So what can we gather from all of this? For the webmasters who do require all of the features that Slides provides, it is very hard to go wrong with Slides because it gives you everything you need to build unique, professional-looking websites. It is a complete system. Different businesses and other professionals can undoubtedly utilize this great tool for many projects and derive great value from it. It has a lot of potential for productivity and that combined with ease of use makes it a great convenience for its users.
It would be safe to conclude that, while a great product that is nicely rounded and well-designed, Slides just isn't for everyone. It is not a tool for building a large, multi-page website, giant inventory system, an e-store, or even a decent sized blog. But then it would be very unreasonable to expect it to do so much as it is not designed to do these tasks. What it is designed to do it does very, very well so this point is a distinction rather than a criticism.
Don't forget to use our DesignModo Coupon code "DESIGNBOMBS" to get 25% off discount.
So this wraps up everything on our end. What do you think of Slides? Do you find it interesting? Maybe something to keep in mind for your next project? We'd love to hear your thoughts so let us know in the comments section below!
To show main source of content:
https://www.designbombs.com/slides-designmodo-depth-review/