Project Comet is the latest high-profile offering from Adobe, and it's an ambitious one. Early buzz around the new tool suggests that they're going for an all-in-one solution capable of handling prototyping, wireframing, app design and much more – a designer's dream in other words.
Does that sound like rather a lot for a single application to handle? You wouldn't be alone in thinking so. Interface designers are used to employing a diverse set of tools on individual projects, and while everyone has their favorites, there is currently no one magic tool to rule them all.
Adobe seems to have their sights set on providing that hitherto non-existent, all-purpose solution, but have they bitten off more than they can chew?
In this article, we'll take a look at that question by introducing Project Comet, assessing initial designer reaction and covering the current tooling landscape.
Introducing Project Comet
Project Comet is the latest offering from Adobe and it's got its aims set high, promising an all-in-one tool to handle everything from wire-framing to visual design and rapid prototyping for all devices from within a single app.
That's how Adobe describes Project Comet on its newly-launched official website.
Senior Product Manager Sarah Hunt introduced Comet to the world at Adobe's Creativity Conference MAX just a few short weeks ago. Hunt took to the stage to show a sneak peek of this latest, yet to be released member of the Adobe product family to the more than seven thousand attendees at the conference.
Project Comet Features
According to Hunt, Comet will feature two modes: Design and Prototype. Design mode will include tools for wireframing and interface design while Prototype will enable users to add interactions, animations and gestures on top of their interfaces.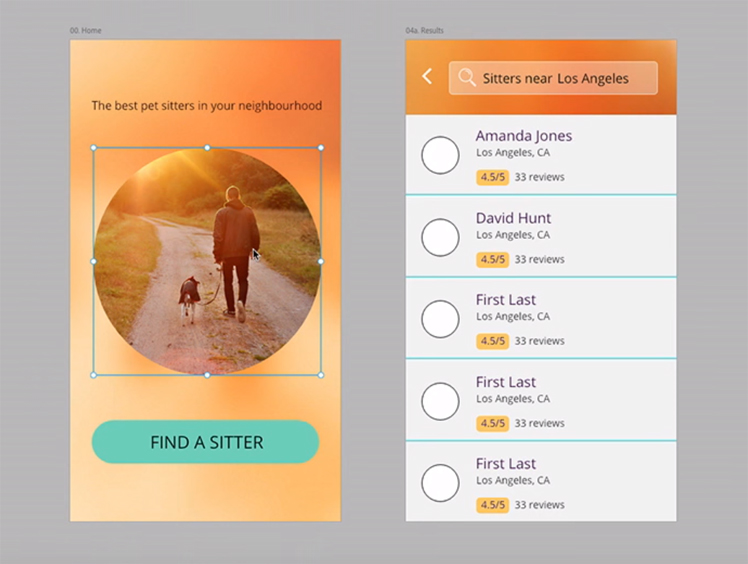 Each interface or artboard can be designed using bitmaps and vectors, with no cap on the number of artboards available for each project.
Hunt made a point of mentioning how Project Comet has been built to "take advantage of the latest hardware capabilities" and is designed to handle gigantic numbers of simultaneous artboards and graphic assets. This could be good news for designers long used to grumbling about Adobe's penchant for beachball inducing applications.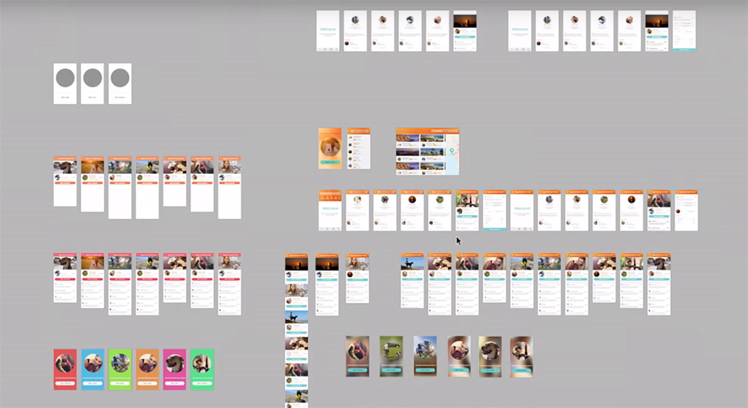 Designers will also be able to preview interfaces in real-time directly on their mobile devices, which should enable rapid testing and iteration.
The product introduction contained a fairly comprehensive number of proposed features overall and the following is an edited set of highlights. Project Comet will:
Feature a repeat grids function to replicate elements within an artboard and update all others in real time.
Use a smart mass import function to populate grids quickly.
Add interactions, animations and gestures to artboards.
Allow designers to easily link elements and visualize the flow of websites and applications.
Include a real-time preview function for mobile devices.
Feature full integration with other applications across Adobe's suite of products.
Be capable of extension via custom plugins.
Release dates are still unconfirmed at the time of writing, with "early 2016" being as far as the current project homepage goes at the moment. Jane Brady, Adobe's Director of Product Marketing, followed up with some more detail on what sounds like a staged rollout in a recent interview with Digital Arts Online:
The plan is that we'll have a preview, there'll be multiple releases of that preview, and we'll add extra features over time. It'll be the full end-to-end workflow, but it won't necessarily be feature complete in all of the areas. We want to be really transparent about how we deal with it – as we get closer to the release we'll provide more information. What's in this release and what's coming in the next release, for example. ~ Jane Brady, Adobe Director of Product Marketing.
She also dropped a heavy hint that Project Comet is at least partially Adobe's response to the threat of increasingly popular competition from Bohemian Coding's Sketch in particular:
Comet really started with looking at our customer base and noticing that there were some customers moving away from Photoshop – they were using Sketch in some cases – and there seems to be two different areas to that. The first was people who were doing heavy app design, because it's so repetitive creating all those different buttons and elements for different devices and sizes, and they were finding that Photoshop wasn't performing enough and there was too much in it that they didn't need – Sketch was so much more focused. ~ Jane Brady, Adobe Director of Product Marketing.
What Does the Community Think About It?
Industry reaction to Project Comet was initially positive, but Adobe may have some work to do in the consumer space judging by the mixed reception on some reaction boards.
Many users pointed out that Adobe will have to work hard to catch up with the progress already made by recent lightweight design and prototyping tools such as Sketch, Pixate, and UXPin:
Doesn't seem exciting to me when I look at the screenshots. This one looks like a slightly souped-up version of Pixate – draw a few rectangles, import the bulk of the actual designs from Photoshop/Illustrator, change the sizes around, that's it. It's what the current batch of UI/UX tools are doing. It's nowhere near UXPin's level. ~ Illoyonex on Reddit.
Project Comet could face an uphill struggle to attract designers in what is becoming an increasingly crowded market. The days of Adobe having the design field to themselves are very much over.
Speaking of which, let's move on to the competition.
What Do Designers Currently Use?
Project Comet's competition is made up of a wide range of design and prototyping tools. Sketch, Axure, Proto.io, UXPin, Briefs, Indigo Studio, InVision, and Justinmind are just some of the more popular options out there.
Each tool offers a slightly different set of characteristics, so running direct comparisons between them isn't straightforward. For ease of use, it's hard to beat tools like InVision or Flinto. At the other end of the spectrum, UXPin and Proto.io offer much more control and a greater set of options to designers.
InVision stands out for its ability to easily share prototypes, but competitors such as Justinmind and Axure also offer collaboration tools.
Testing – the area of UX design that Project Comet potentially looks weak in – is well covered by InVision, Solidify and UXPin. Mobile-first design is perhaps best addressed by Justinmind, with its support for standard interactions such as swipes and taps, and the option to preview prototypes directly on most devices.
As the brief breakdown above shows, even if you're an experienced designer, it can be confusing just trying to keep up with the number of options out there, let alone selecting one particular tool to cover most of your work.
Khoi Vinh recently ran a Design Tools Survey over at Subtraction.com with a view to seeing how options actually break down in the wild. With answers from over 4,000 participants in over 200 countries, the overall winner was Sketch for most wireframing and interface design tasks.
Interestingly, vanilla HTML and CSS was still the leading choice for most designers when it came to quickly putting together prototypes.
As the Design Survey results show, designers are expected to be familiar with a wide variety of solutions in order to get their jobs done, but being able to concentrate on one would make workflow substantially simpler.
Considering Adobe's promise to be aiming at an all-in-one solution for UX designers with Project Comet, what was actually shown during the introductory video at MAX falls a tad short. It is just a pre-launch demo, however.
If Project Comet lives up to its own hype, it has the potential to make a lot of UX designers very happy indeed, but the jury is still firmly out at this stage.
Conclusion
Adobe certainly has its work cut out for it with Project Comet, but you can't fault them for ambition. It will take a lot of work for Adobe to woo designers away from their existing tools, especially with those who are still grumbling over Adobe's recent switch to a subscription model.
If the previews are to be believed, Project Comet it will have a couple of things going for it over its main competitor Sketch: the ability to handle large quantities of artboards, cross-platform support, and integration with their existing suite of products being the main ones.
The opportunity is certainly there to make an impact, but only time will really tell whether Adobe has bitten off more than they can chew.
Are you going to be giving Project Comet a whirl when it comes out? Or have you already picked your tools? Let us know in the comments.
To show main source of content:
https://www.designbombs.com/project-comet-adobe-bitten-off-can-chew/