Nearly 1.000 web development companies throughout the world and across industries have been surveyed to examine the state of client collaboration in web development. And some interesting insights have been uncovered. Not only how client communication and collaboration has changed in web development over the past few years. Also how it needs to change.
The State of Client Collaboration in Development & Design Survey Report explores the field of client work and how collaboration is evolving.

Key findings on how client collaboration has changed
As in all industries driven by disruptive technology, client collaboration has changed and will continue to morph into new forms and methods in the coming years. The findings released are filled with insights about how agencies and designers actually serve clients. The survey uncovered how client collaboration and communication has changed over the years, and how it still needs to change.
Full report available
You can download the entire report for free here.
If you do not have time to read the full survey report, make sure to check out my summary of the survey results below.
931 designers & developers surveyed
In total 931 people participated in this survey on the state of client collaboration in development & design. Those participants are mainly working in web app development (62%), website design & development (54%).

Company size does not matter.
Survey results point to an interesting trend: You don't have to be a big company to serve many clients. Smaller companies that adopt enterprise-grade workflows can also serve many clients like their large counterparts.
Of the companies with less than 20 employees who serve more than 50% Enterprise clients, 87.9% use collaboration tools like Assembla, Atlassian/JIRA, Github, Asana, Trello, Basecamp, Usersnap, Teamwork, or others.
Of the small firms that serve more than 31 clients, 62% use collaboration tools. It is not the size of the team that enables you to serve many clients, but rather the quality of your collaborations.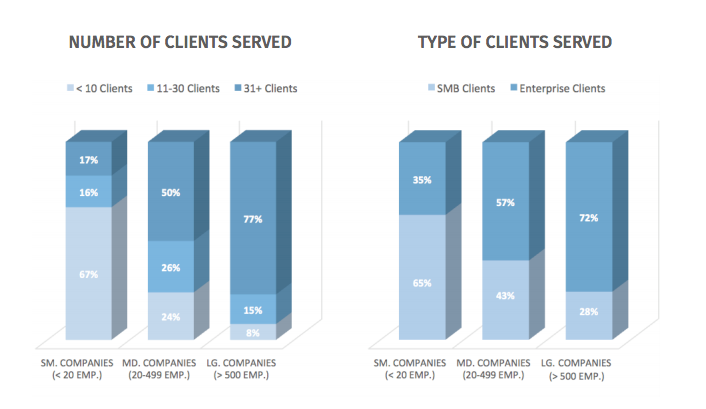 Web development is going global
In the recent years, development trends have been changing radically. With new tools available, teams are no longer limited by geography. Instead development companies hire people, regardless of where they are located. The web development industry has become a global operation.
Turns out that it is not only a trend, but people and companies are more remote than ever before.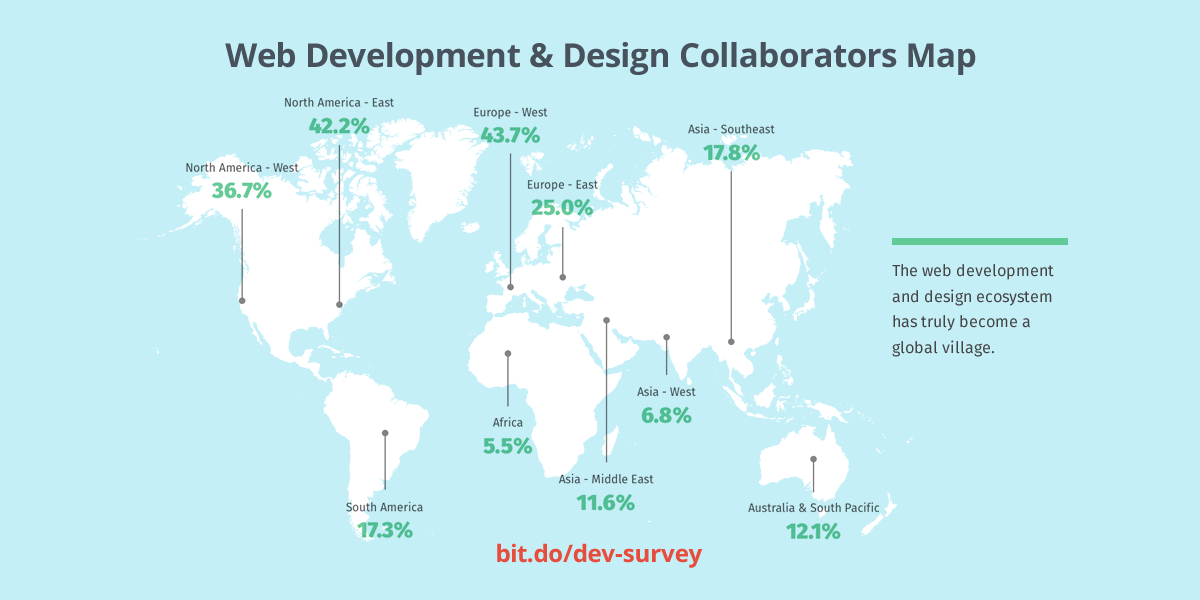 Collaborations are morphing into long-term client relationships
A true shift is occurring in how client relationships are structured. Nearly half of the teams (44%) already offer weekly or monthly retainer-based work. Transitioning from hourly engagements to ongoing collaborations (in some cases lasting for decades), companies are more visionary than ever before: focusing on long-term partnerships.
Consistent with the bell curve of innovation adoption, 32% are still working on fixed-scope/fixed-time projects, and 8% are still performing hourly engagements.
How are designers are winning the game?
So you might wonder. What are the key differentiators when clients choose the web developers and designers they want to partner with? According to 931 people participating in this survey, industry experience (69,2%) and positive reviews / referrals (64,2%) are the key here.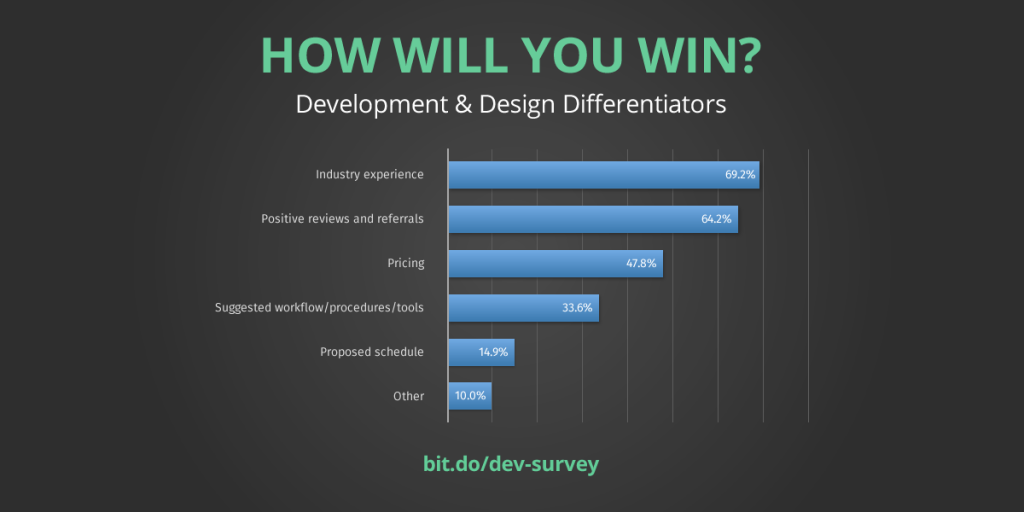 Web design & development is getting leaner
The survey also asked a lot of questions on how web development & design companies work and which methodologies they follow. With agile and scrum being the leading the methodologies, the traditional Waterfall only ranked 4th on the list. There is a clear trend towards lean approaches.
With Agile and Scrum leading the methodologies chosen by survey respondents, tools must offer solutions within those frameworks to be able to serve web development companies
that work with clients. With the traditional Waterfall only occupying fourth place, there's a clear trend going to a more lean approach.
Tools that aim to support Scrum specifically will promote transparency and allow clients to change priorities and requirements quickly.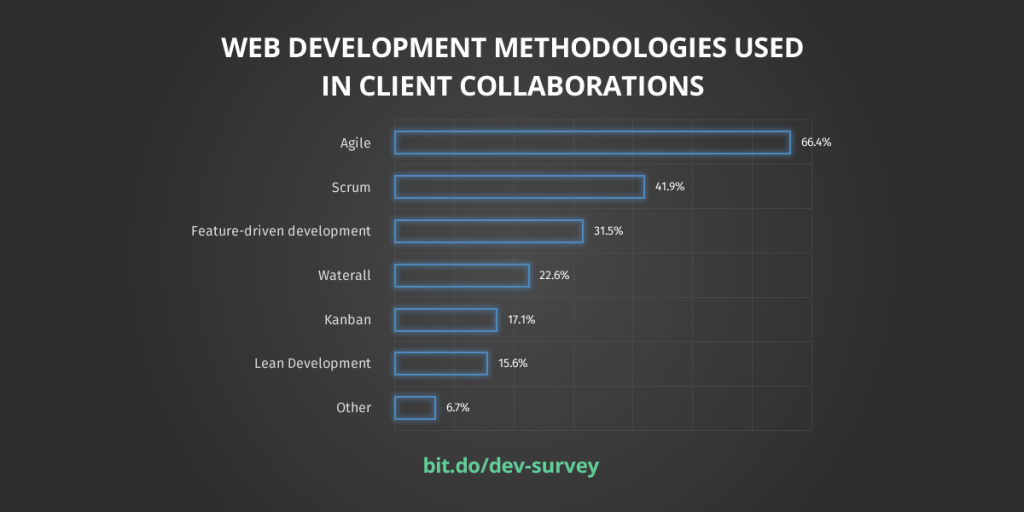 Scope creep & client communication causing the biggest pains
I guess, we have all been there. And now we know that we are not alone. Scope creep (56,6%) and unclear client communication (52,3%) causes the biggest frustration among developers.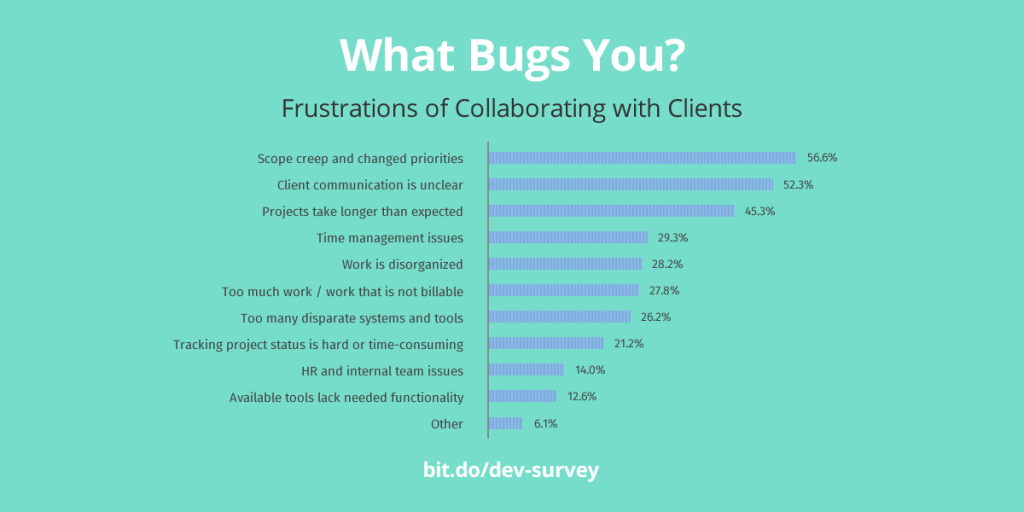 Preferred methods of communication
An overwhelming majority of web development companies are still using tools like email, Google Docs, and Excel with their clients. While tools like Slack and publications like Inc.
promised an end to email, it seems that web development firms still use it.
Perhaps the tools that aim to replace it are too complicated for clients or not strong enough for web development firms, or perhaps we are still waiting for the perfect balance of power and simplicity. Overall, there's a clear sign that implementing
new tools inside project and client teams remains a challenge to be recognized, addressed, and solved.
Collaboration tool set
The survey reveals that while they are still preferred, traditional tools like email, Skype or phone calls still lack some overall project management features.
When asked what is missing in the tools available, web development and design companies chimed in, overwhelmingly pointing toward a need for a straight-forward single place to
manage their clients, projects, feedback, and bugs:
A simple, clean and slim collaboration tool, mainly to clients.
A tool that is capable to replace whiteboards, flipcharts, lists, KANBAN, and Scrum boards, which is completely open and flexible, but could also be efficiently structured.
A ticket system with extremely end-user-friendly interface facing the client.
Time zone as global challenge
The biggest frustration about working with distributed collaborators is time zones.
With tools that enable conversations to continue asynchronously, time zones matter less and distributed teams can work together more effectively. Team members need a way to make clear requests and call the attention of the right people at the right time. This way, when they return to work at their time, all of the answers they need will be waiting for them at the right place. The solution to distributed time zones is clear conversations that create answers.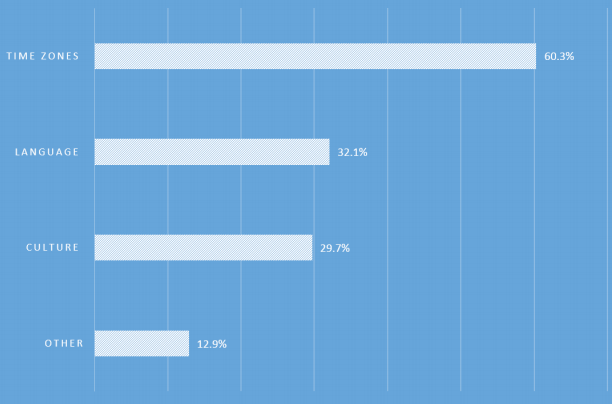 Chaos in billing
Web development and design companies are shouldering financial burdens as a result of poor tracking. Billable hours remain uncaptured, companies spend resources handling regular billing disputes, and hours are forfeited due to poor documentation.
If they could find a way to infuse better tracking into their workflows, web development shops could bill 30% more, collect 30% more, reduce 5 billing disputes, and increase profits by over 30%! Too much money is being left on the table with current tracking.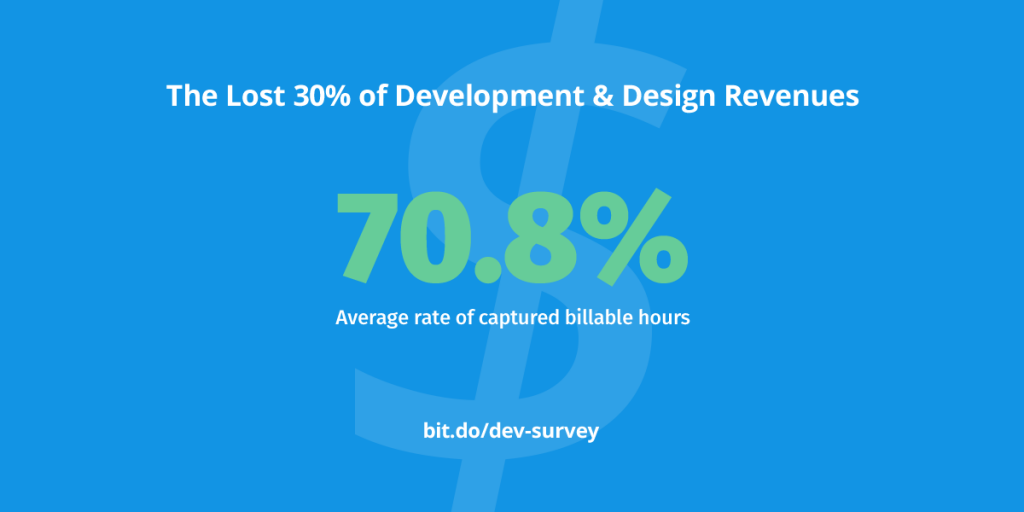 Conclusion
In analyzing the results of this survey, I was pleasantly surprised by several factors.
First, it seems that companies are finding that the same methodologies that have proven successful in internal collaborations are also delivering success when used with clients. Namely: visibility, agility, and clarity.
As a distributed team ourselves, we are thrilled to see more companies blurring boundaries set by geography and finding solutions to create the best team that will deliver the best product quickly. With global development teams and streamlined communications, wonderful things are possible.
Finally, it is refreshing to witness the shift from hourly work to long-term engagements from clients. This is further proof that trust is being built, partnerships are being forged, and true collaboration is happening.
We are looking forward to next year's survey and seeing what surprising results we will find after a full year of advancements from companies, team members, clients, and the tools that serve them all.
And last but not least, I truly recommend giving the study as a whole a read.
This survey on the state of client collaboration was conducted by Assembla and Usersnap.
To show main source of content:
https://www.designbombs.com/survey-report-931-web-design-agencies-collaborate-clients/