Creating a compelling Contact Page is just as important as building an effective landing page or designing a personalized, yet informative About Us page.
Unfortunately, many consider contact pages "boring" and often neglect them. However, this neglect can lead to lower site traffic and fewer sales.
Today I want to let you in on some of the best tips for creating a standout contact page; one that invites your readers to reach out and say something to you. I will also share some well-designed contact pages that can serve as design inspiration to you.
Contact Page Best Practices
Contact pages have a specific reason for existing on your website; they give your visitors a way to get in touch with you. They also encourage your visitors to take that extra step and make a purchase or hire your services.
I wish I had the magic formula for convincing your visitors to make purchases, but I just don't. I do however have some helpful tips for establishing a solid line of communication between you and your site visitors using your contact page.
Make it Functional
Seems ridiculous to mention right? Well, nothing screams unprofessional like a contact page that won't send properly. Make sure your contact form works and any links you include are not broken.
Have Clear Objectives
Design your contact page with a goal in mind. Do you want people to inquire about your services? make a purchase? request a free consultation? or just say hi? Save time on both ends by making it clear why your visitors should contact you.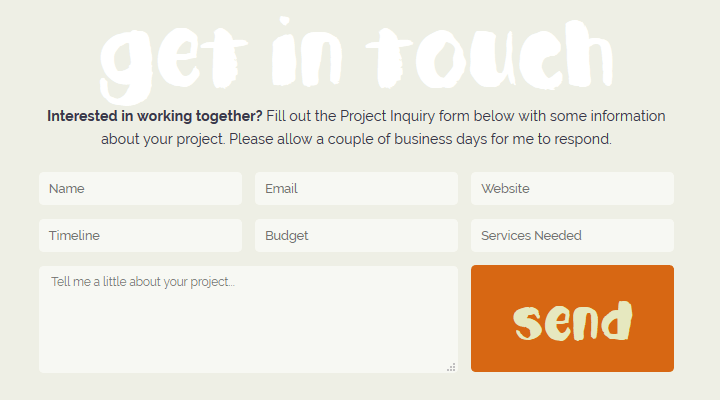 Denise Chandler makes her objectives very clear. Giving potential customers the ability to provide specific details lets Chandler know exactly what her customers need. It also allows her to make a more individualized and attractive sale proposition for each contact she receives.
Make it Easy to Find
Your visitors do not want to have to navigate your website looking for a contact page. Make the link easy to find, including it at the top and bottom of each page if you have to.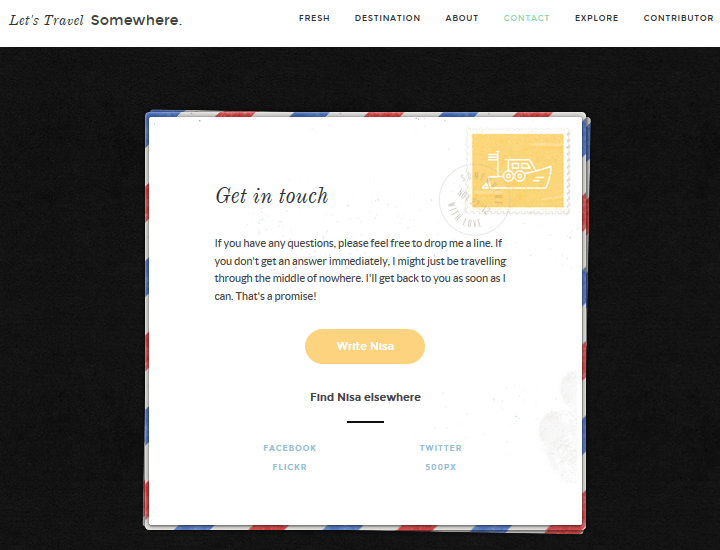 User experience is key when it comes to the placement of your contact page link. If finding a way to contact you is difficult, you will lose some great sales opportunities.
This is something Let's Travel Somewhere understands. Having a sticky navigation bar that appears on each page, with a link to the contact page, guarantees readers have every chance to make a contact if necessary.
Additional Contact Information
Another great way to increase the chances a site visitor will contact you and make a purchase is to offer other ways to contact you.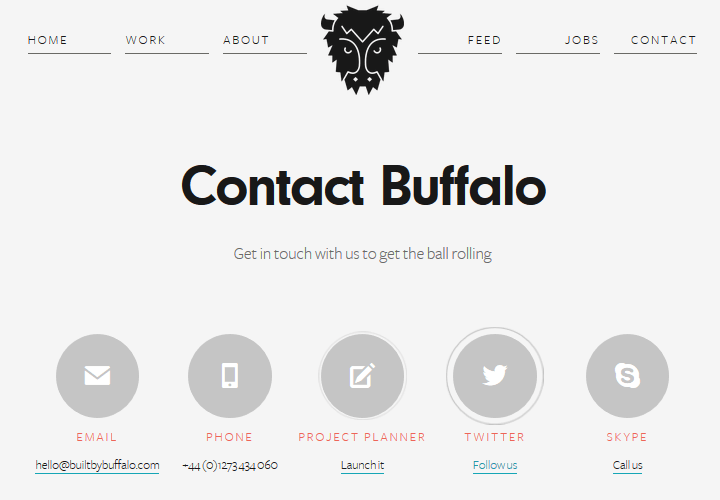 Including information such as email, telephone, and links to social media profiles, as Built by Buffalo clearly does, is a great way to reach a wider audience and up the chances a contact will be initiated.
Include a Call to Action
In addition to having a clear objective on your contact page, consider utilizing the effective call to action button encouraging your visitors to reach out to you. Better yet, invite your visitors with enticing copy to do additional things while filling out their contact information.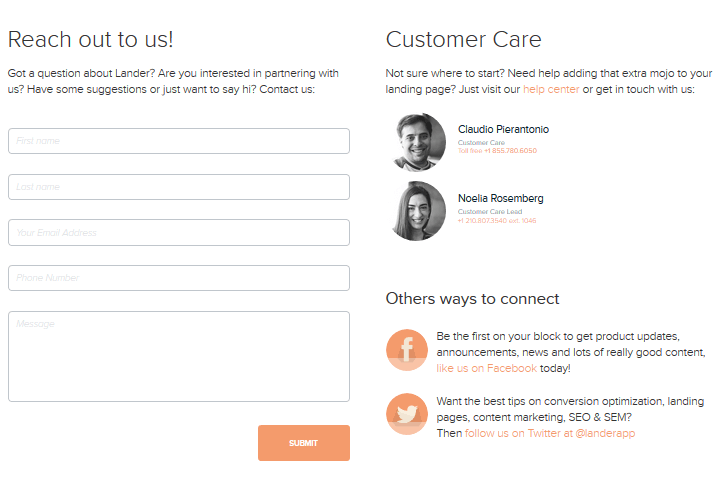 Lander does a nice job of making a simple contact page on their website while also inviting their visitors to like them on Facebook or follow them on Twitter. This will help their company stay on the mind of the site visitor long after they leave the website.
Make it Look Good
Never underestimate the power of a visually appealing contact page. While the page may be simple, careful thought must still go into its design.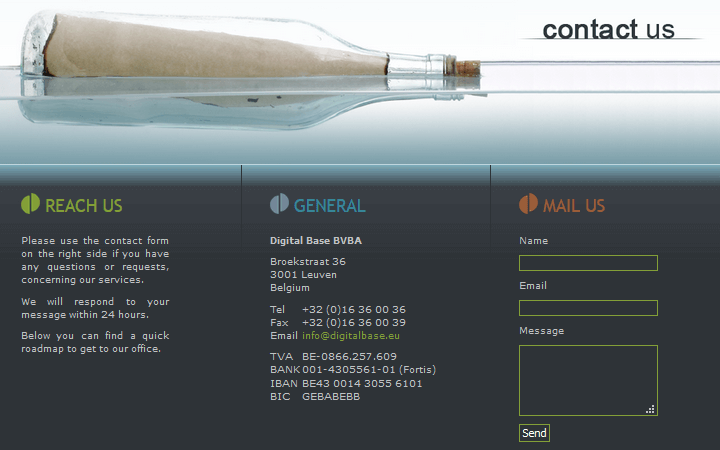 Digital Base does a great job of adding a punchy image to their contact page. It relates to the nostalgic feeling of reaching out and making contact, yet does not overwhelm either. When used correctly, a powerful image such as this one can go a long way in compelling a visitor to fill out a contact form.
Use Good Copy
It is important to be catchy when it comes to your contact page's copy. Without getting lengthy, tell your readers what to do and make it memorable. It's the little things that will sway a visitor to contact you and possibly make a purchase.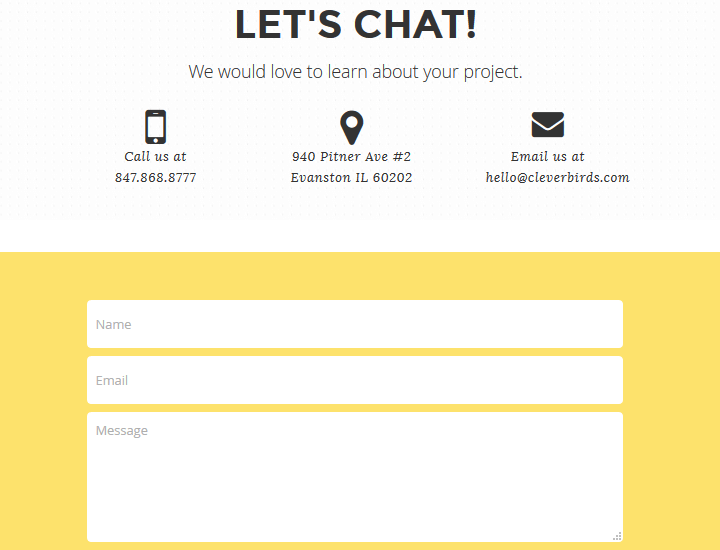 Cleverbirds not only has a splash of bright color on their contact page, their copy is likeable. Using the friendly phrase "Let's Chat!" makes the visitor feel like they really want to hear what people have to say.
Assure Readers You Will Respond
One positive thing you can do is assure your visitors that you will respond to their contact request. A surefire way to ruin your sales opportunities is to ignore people reaching out to you, regardless of whether they wish to make a purchase or not.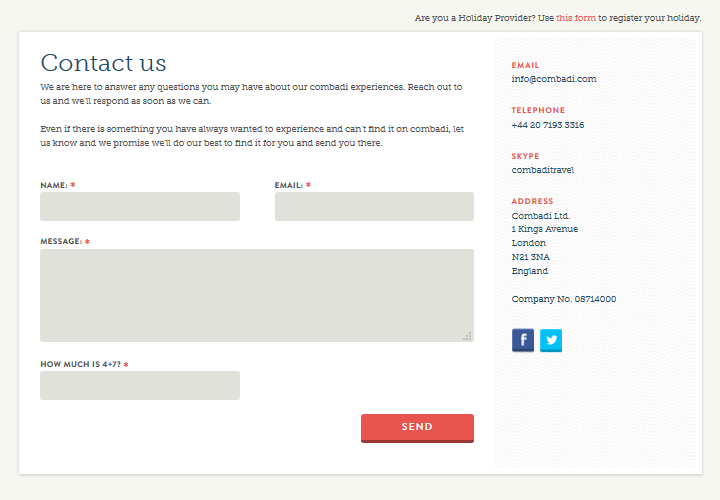 Combadi does an excellent job of making sure their visitors know they will get in touch. They even take it a step further by offering to help with things not found on their own website. It's that kind of personal touch that can make a big difference in whether a visitor will become a customer or not.
Final Thoughts
There is no doubt that having a compelling contact page on your website will help influence whether a site visitor reaches out to you and whether they will make a purchase or not.
The key is to always keep those visiting your website in mind. Providing the user experience that you expect when you visit a website and need to make contact will help your business succeed in more ways than one.
Create a compelling contact page on your website today and watch traffic increase, contacts come rolling in, and profits boom as you reach more people on a daily basis and satisfy those that keep coming back for more.
What are your thoughts on what makes a compelling contact page? Have I left out any key components that you feel make a big difference? I would love to hear all about it in the comments below!
To show main source of content:
https://www.designbombs.com/create-compelling-contact-page/