Screen real estate is a big thing now. That means that it is becoming increasingly valuable to fully utilize all the space you have on your website's display and notification bars are a great way of doing that.
There are many successful online business and websites that implement these notification bars to communicate promotional offers, discounts, and deals to their site's viewership. Notification bars create an engaging user experience and allow webmasters to communicate with potential customers. Not only do they look fitting on almost every site but they also increase conversion rates.
In this post, let's take a tour around some of the best notification bar plugins for WordPress that are currently out there to see if we can land on one that is right for you. We'll also highlight the standout features in each to help you gain valuable insight into each offering.
Let's get started!

WordPress Notification Bar is one of the most popular notification plugins for WordPress. It is incredibly easy to use for both web developers and beginners alike. The plugin ships with a quick and easy notification bar with a call to action integration in your WordPress website. WordPress Notification Bar has been designed and developed by the well-known developers, SeedProd. They are the same company who created one of the best coming soon themes & plugins.
The plugin features an intuitive user interface, which enables users to build custom notification bars that fit well with their WordPress website. Once you've got the notification bar in place you can add a custom message to it, or a call to action button –whichever you see fit.one of the stand-out features this plugin has on offer is that it allows users to make their notification bar fixed. A sticky notification bar dramatically improves the user experience and makes it much easier for your site's viewership to browse through your website. With this plugin, you won't have to install a third party tool to achieve fixed header navigation. The WordPress Notification Bar plugin also comes with customization options that let you choose any color for your custom notification bar to fit your site's brand.
The WordPress Notification Bar plugin also comes with internationalization and multisite support. Although this plugin does not have a lot of functionality on offer, it gets the job done. Best of all the plugin can also be translated into nine languages to cater to a global audience.

The WPFront Notification Bar plugin for WordPress enables webmasters to create a notification bar on either the top of their website or the bottom. This flexible plugin was designed to display notification about promotional events or convey news elegantly and concisely.
The WPFront Notification Bar plugin enables webmasters to add a button alongside the message on their notification bar if they'd like. The button can be configured to open a URL (redirecting the visitor to another web page) or to execute a JavaScript code. One of the best features about this plugin is that it comes with shortcode functionality so all you have to do to create a custom notification bar is add a shortcode to the page and you're good to go. Shortcode integration also makes it easier for users to set the position of their notification bar – either top or bottom.
If you have been following the latest design trends then you will definitely be glad to know that the WPFront Notification Bar plugin ships with sticky notification bar functionality which allows you to fix the bar at either of the two available positions.
When it comes to customization options the WPFront Notification Bar plugin goes all out. Users can choose to enable the display on scroll option, set the height, seconds before the bar appears, and the seconds before auto close. In addition to this, webmasters can also choose to display a close button and a re-open button. They are also given a color palate to change the notification bar's color to fit their site's brand. The plugin also comes with a set of useful documentation to give users ideas to how they can configure their notification bar. As of this writing, the WPFront Notification Bar plugin can be translated into three different languages.

MyThemeShop's WP Notification Bar Pro is a premium quality WordPress plugin that enables users to add custom notifications and alerts on their notification bar, and display a message to go with it, on their website. This one of a kind, powerful plugin, can be used towards enhancing marketing efforts by customizing the notification bar. Savvy webmasters can grow their email lists.
Boost conversions, and increase their social media following by simply displaying custom notifications. For instance, you can sue the notification bar to display discount codes, promotional offers or let your site's viewership know about an upcoming sale.
Some of the page elements that you can add to your notification bar include text and link, buttons, posts content, newsletter, subscription bar, social media icons, countdown timers and search forms.
The WP Notification Bar Pro plugin is really responsive which means that it works great with devices on all screen sizes. This ensures that you will be able to maintain an unparalleled user experience across any device or browser. The plugin also ships with a plethora of customization options that enable users to choose from an unlimited array of colors for their notification bar's design.
In addition to this users can also customize their notification bar's functionality and allow their viewership to toggle between hiding and display options. This delivers incredible value to your viewership.
The WP Notification Bar Pro plugin also comes with a handy-dandy that enables the webmaster to preview their notification bar before it goes live. This ensures that the notification bar looks the way it should. For $29 the WP Notification Bar Pro plugin is a catch for sure.

Hello Bar is a popular notification bar service that enables users to create a customized notification bar and integrates them into their WordPress website. One of the best things about this service is that it offers a neat and clean user interface that walks users through several stages to customize their notification bar, similar to a wizard. In addition to the user intuitive user interface, you also get access preview of your notification bar as it progresses user development stages. The best part about this service is that you do not need to know how to code to create a professional looking custom notification bar for your WordPress website.
By default, Hello Bar comes with different options to configure the message on your notification bar. These options can broadly be categorized into email addresses, driving traffic to your web page and promoting your business's social media profiles.
The customization options on offer with Hello Bar empower users to personalize everything from color plates to typography. In addition to this users can also select which pages to display the notification bar on and which to leave out. One of the best features about this plugin is that it gives you the options of setting the date range to display a certain notification bar. This is a great feature for any time sensitive sales, events or promotions that you might have on offer.
Once you've created a notification bar with Hello Bar service, all you have to do is integrate it into your WordPress website.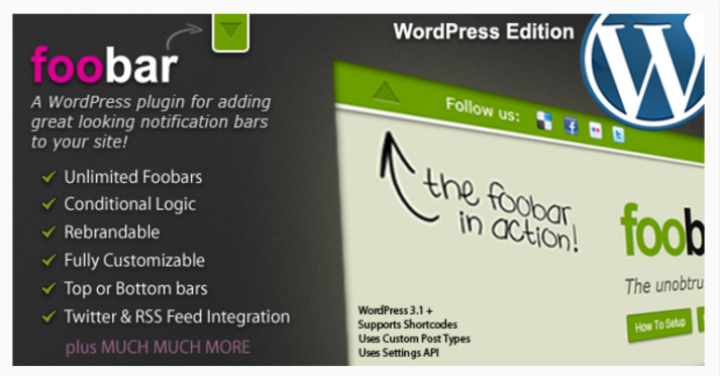 Themergency's Foobar plugin for WordPress empowers webmasters to add a professional looking notification bar to their website without having to code. One of the standout features on offer with this plugin is that it allows users to add different notification bars on different web pages on the website. Foobar can handle everything from tweets to RSS feeds and social profiles to custom HTML. Users can leverage this plugins powerful functionality to increase sales, boost social media followings and improve conversation rates. Foobar can effectively help you meet ayn of your marketing goal.
The plugin comes with over thirty customization options so there is practically no limit on how much you can customize your notification bar's appearance and functionality. In addition to this, you can create unlimited Foobars that not only rebrand-able but also fully customizable. With this incredibly powerful plugin, you can display latest tweets and integrate RSS feeds in line with the notification bar. For $17 dollars this plugin offers great value for money. Be sure to check out the demo before making the purchase.
Which Notification Bar Plugin Is Right for You?
By now we've evaluated the top notification bar offerings. How do you pick which one's best for your site?
If you're looking for exceptional marketing features then WP Notification Bar Pro is definitely the best choice out there. It enables webmasters to add every kind of imaginable element to their site's notification bar to reach out to customers. Some of the notification bar elements include buttons, countdown timers, social media icons, and links.
However, if you don't have the budget for a premium plugin then WPFront Notification Bar is a feature-rich plugin that gets the job done. It's a great choice for both web developers and non-tech savvy webmasters alike. The plugin is available for free in the WordPress plugin repository so we recommend that you try it out for yourself.
Those of you who are big on live previews would do well with the Hello Bar notification bar service. The wizard-like intuitive interface of this incredibly powerful service enables users to create and preview their notification bar in a live environment. In addition to this, there are tons of customization options on offer to help you create the best notification bar for your WordPress website.
Wrapping It Up
Every website and business have different goals and they can be in different stages of developing their businesses. The niche matters but so does the business's current goal set. Notification bars can serve different purposes for different users and it is up to you to determine what use is most beneficial for your business or website.
We covered some of the best notification bar plugins for WordPress in this post and hope that you're able to find the right fit your site's needs. You may also want to see our comparison on 10 best WordPress mailing list plugins.
What is your take on notification plugins and what are some of your favorites? Let us know and share your experiences with us in the comments below.
To show main source of content:
https://www.designbombs.com/best-notification-bar-plugins-wordpress/