You've got a real knack for Photography or a collection of products for your e-store that you'd like to share with the world. How do you go about sharing your media items effectively through your WordPress site?
WordPress has a ton of gallery plugins to choose from – each with their own set of powerful features. That said, picking out the very best gallery plugin for your site and its needs can be a daunting task. Keeping that in mind, I'll introduce you to some of the best plugins available for showcasing your photography, e-store products, and other media items in this post.
Sounds good? Let's get right to it then!


One of the most powerful gallery plugin available today for WordPress sites is famously known as NextGEN Pro. The plugin provides great functionality to its users, making the whole online photo-surfing experience memorable. The plugin provides amazing features which enhance the overall look and feel of your online gallery – no wonder it is rated among the best.
The fully responsive design of the plugin helps users view their masterpiece gallery on any device comfortably making your online photo gallery more accessible to people. Thanks to NextGEN Pro, earning by selling your prints or digital copies of your photos is a cakewalk. With full-on e-commerce support, you can easy add unlimited price lists to your galleries and sell your masterpieces to the world.
Users can also keep in touch with their customers by commenting or sharing their galleries on some social media platforms. This is a great way to maintain customer relations and may also increase your total earnings by a decent percentage.
Pros
Fully responsive design.
E-commerce functionality.
Integrated commenting feature.
Cons
Limited gallery layouts.
On the pricier end of the scale.
Those of you who are looking to showcase their talent in a purely professional way using galleries should definitely give NextGEN Pro a shot.

Envira is hands down one of the easiest to use gallery plugins you'll ever come across. Some people are taken aback by its simplicity. Rest assured, it is a powerful gallery plugin which fulfills the basic needs like any gallery plugin would do. But the reason why Envira Gallery is so popular in the WordPress plugin market is mainly because of its simplicity and amazing features.
The plugin provides a fully responsive framework which helps in viewing your carefully crafted galleries on any screen size you throw at it. Envira Gallery is known for its simplicity when it comes to creating photo or video galleries. With just a few clicks, you can easily create a beautiful photo or video gallery without needing to hire a web developer to help you out.
And if you're short on time, you can always go with the pre-built templates that come with the plugin as they fully customize the look of your gallery without having to do anything at all!
Pros
Easy to use.
Fully responsive framework.
Support photo galleries and video galleries.
Comes with pre-built templates.
Cons
Pricey.
Bronze and Silver plans don't have all of the features.
Don't have to worry about protecting your galleries from copyright infringement as you can put watermarks on your photos and set passwords to fully ensure someone else doesn't violate your hard work or claim ownership over it.

Just like the name itself, this one-of-a-kind plugin allows you to create portfolio style galleries for your WordPress site easily. Portfolio Gallery helps you create many different styles of galleries without having to work day and night to get the right combination. There are 7 different views to select from all of which offer great functionality and usage.
Users can add an unlimited number of images and videos to their gallery and set the sorting and category view of each portfolio gallery with one click. Portfolios are a great way to market yourself to clients who are in search of professionals. The Portfolio Gallery plugin allows you to add various portfolios to your gallery which will help businesses showcase their projects to potential clients.
With the famous drag and drop builder option, you can drag and drop your photos in whichever sequence you like and make the perfect gallery according to your liking.
Pros
Free Lite version.
Comes with 7 templates.
Supports photo galleries and video galleries.
Amazing support.
Cons
Limited customization options.
Best of all, if you're new to all of this then you don't have anything to worry about because the plugin's full documentation and support are available for webmasters who have trouble or issues using the plugin or aren't sure how to get started with it.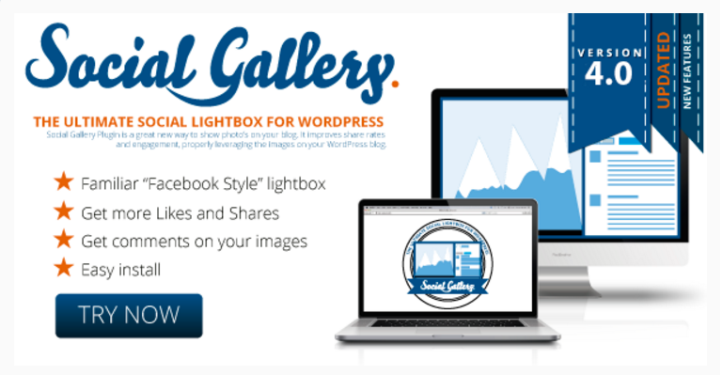 The Social Gallery plugin is all about showcasing your talent to people and getting instant feedback through comments and shares on different social networks. This is a great way to introduce your talent into the big market. Its inbuilt photo viewer is the as same as the one on Facebook making it much more appealing to the viewers.
Personalization is one way to make your work look unique and visually enticing and Social Gallery offers much to customize. From the plugin's options screen, you can tweak just about everything from colors to margins and image sizes plus you can also change the theme for easy navigation within your gallery. All of this is really easy to set up and the installation wizard is also very helpful for WordPress newbies to follow.
If you're short on time, you can always use the 11 presets which basically do all the customization work for you in just a few clicks here and there. But if you want to kick things up a notch, you can add CSS3 animations or use the main customization options to fully personalize your gallery according to what the people want or what you want.
Pros
Facebook-style image viewing.
Tons of customization options.
Ships with Lightbox.
Cons
Social Gallery plugin is definitely worth a shot if you're looking for a gallery plugin with full-on portfolio functionality.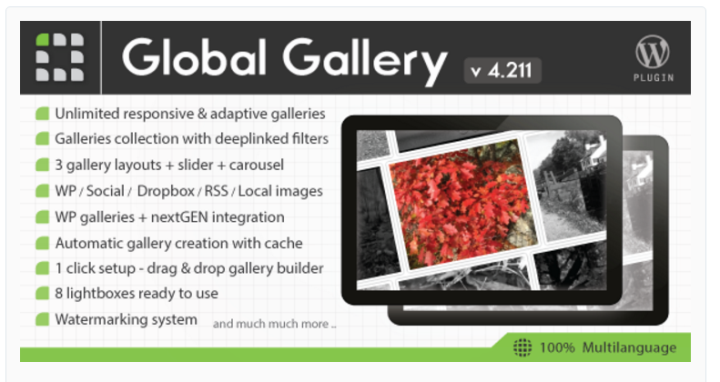 Creating beautiful and fully responsive galleries has never been easier. With Global Gallery plugin for WordPress sites, you can set your very own, custom gallery up in minutes. As a photographer or a visual image creator, you would be really annoyed by the fact that you cannot post all of your images or photos/videos onto your gallery. This powerful plugin takes care of that problem by enabling you to add unlimited image sources and create huge beautiful galleries in just a few clicks.
Plus you also have the option to choose from 3 different layouts – just pick the one which suits your needs best! The appropriately named Global Gallery plugin enables you to integrate all of your WordPress galleries globally or just for the pages you choose to select.
As the old adage goes: time is money. Thanks to the Global Gallery plugin, you don't have to waste time in picking photos one by one as the plugin automatically creates galleries for you and you can later choose which photo to be displayed. And since we're talking about saving time, why not save time in by just installing the preset 6 styles which ship with the plugin?
Pros
3 gallery layouts, 8 lightboxes
Slider and carousel included.
Easy to use interface.
Cons
Limited customization options.
This feature-rich plugin is ideal for anyone looking for a more professional way to reach out to the world by showing them what  you do best.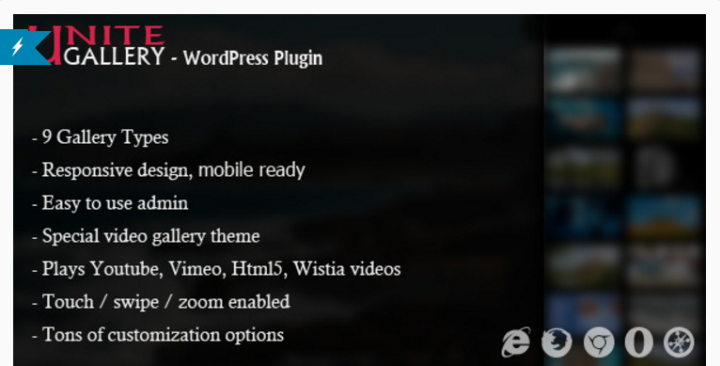 Having trouble finding the right gallery plugin to install on your WordPress site? Unite Gallery plugin is a good option when it comes to creating clean, beautiful photo and video galleries easily. The plugin supports a fully responsive framework making it much easier to use and view your galleries from your desktop or mobile device.
The plugin's zoom feature is pretty unique as far as gallery plugins go. The zoom feature also works with touch enabled devices and even in themes. You can choose from a total of 9 different gallery styles which can be fine-tuned according to your liking from the gallery options that the plugin offers. Plus you are able to change the skin easily with CSS files without having to touch the plugin's core code.
If you are more of a video gallery person, you have the option of choosing between 3 different skins especially for the video gallery. You can add videos from YouTube, Vimeo, or any type of HTML5 video.
Pros
Features a one-of-a-kind zoom feature.
Supports image and video galleries.
Responsive design.
Intuitive user interface.
Cons
If you are on the hunt for a gallery and video plugin which allows you to do a lot with minimal effort then this just might be the right choice for you.

Gallery is a simple yet very powerful gallery plugin which presents an opportunity for photographers or any visual image editors and creators of such kind to finally show their talent to the world through stunning, clean, and professional-looking photo galleries. The fully responsive plugin has many great features to provide to its users and has made quite a name for itself in the WordPress plugin market.
Users are able to choose from many different gallery styles and add an unlimited number of images onto it which certainly does not limit your potential to do more. The plugin supports a simple light box, but don't disregard it for its simplicity as it is backed up with extensive functionality along with a lot of customization options. You can set different lightbox effects to make your galleries look cool.
Best of all the plugin support social media integration which helps in generating traffic thus increasing your site's overall reputation and getting more page views. The Instagram integration helps you in choosing photos from your Instagram account and transferring them into the beautiful photo gallery you'll be preparing.
Pros
Free.
Supports watermarks.
Easy to customize.
Cons
Advanced features in premium version.
You can always add watermarks to ensure that nobody uses your hard work and takes all the credit – a great way to make sure you are getting all the credit you deserve.

SharePrints is a perfect solution for people looking to take their hobby or passion up to a more professional approach. This gallery plugin is fully responsive and easy to use. Other than it's fully responsive and retina ready display, SharePrints also features advanced touch capabilities which make it super easy for mobile users to look at your amazing talent with comfort.
The plugin also offers Visual Shortcodes which basically let you drag and drop your content here and there making it much easier to update your beautiful galleries. You are given the option to choose from 7 different types of galleries which can be updated with an unlimited number of images, plus, you can also add as many as galleries you like. The galleries can easily be created, edited, and managed from any page or post which saves a lot of time and effort when it comes to editing galleries. Plus you can add a little flair to your overall presentation by adding any of the 14 filter effects and the 10 motion effects to your galleries.
Pros
Developer friendly.
Fully responsive design.
Visual shortcodes integration.
Cons
Steep learning curve.
Pricey.
Developers tend to like this plugin as it allows them to create custom galleries, their own custom lightbox panels or tweak the UI functionality.
Which Gallery Plugin Is Right For You?
Deciding which plugin to go with can be quite difficult – especially when you have so many great options to pick from. Let's narrow down the search some more by evaluating the features you look for in a gallery plugin.
If you're on a budget and you want a complete gallery solution that comes with amazing support then Portfolio Gallery is the way to go. The plugin is available free for download from the WordPress plugin repository and it has everything you need to get started.
If you're willing to fork out a few bucks for a premium solution then NextGEN Gallery is hands down the most powerful, feature-rich plugin out there. With features ranging from e-commerce support to a fully responsive design, you won't be disappointed!
Those of you who are looking for a gallery plugin that supports both photo galleries and video galleries should definitely give the Envira Gallery a shot. This popular option enables you to display your images and videos effortlessly on your WordPress site in minutes!
Conclusion
We covered some of the best free and premium gallery plugins that offer great value for money. With any of these plugins, you'll be able to add a fully functional gallery module to your WordPress site and display your photography, images, videos, and other media files effectively in a way that makes your site look professional.
We hope this article helped you find the perfect gallery plugin for your WordPress site. You may also want to see our collection of best Photography WordPress Themes.
Which gallery plugins have you tried out? We'd love to hear from you so let us know in the comments section below!
To show main source of content:
https://www.designbombs.com/best-gallery-plugins-wordpress/