Rich snippets are defined as on-page markups or structured data markups. In simple terms, rich snippets are the extra content or writing that appears within the search results. This is useful for both the webmasters and visitors.
Webmasters are able to advertise their content through the extra graphical elements that appear below their post's title. Rich snippets are incredibly eye-catching and they stand out prominently among the search results. Visitors can get some more insight into a particular search result if it has rich snippets associated with this. This helps them determine the value your site could provide them before they even open it.
Rich Snippets are not only text, throughout the years, they have evolved into images, star ratings, and tiny details being displayed within the search results. In this article, we'll run the rule over some of the best rich snippet plugins for WordPress. We'll also highlight each one's standout features and the pros and cons of using them.
Let's get started!


This plugin just might be one of the best plugins you can use on your WordPress site. If you are looking for a reliable and fully compatible plugin to implement rich snippets functionality then look no further. The All In One Schema.org Rich Snippets plugin is quite impressive and in order to help advertise your content and increase your traffic, this plugin will do an outclass job.
You can customize your snippet however you see fit but you won't be able to get too carried away because there aren't a wide-range of options for you to choose from for selecting the overall appearance. The overall reviews of the plugin are incredible and most of the plugin's users are satisfied with its performance.
Pros
When it comes to something like rich snippets, these type of things evolve with the passage of time. So when you're choosing a plugin, it is best to choose the one that provides fast updates and this particular plugin does that. So no need to worry about having to use outdated technology.
If you're running away from adding the snippets codes manually then this is your perfect hideout because you will not have to do that.
The response to your emails will be quick as well so if you're having issues or you have questions regarding the plugin, you can simply submit a ticket and someone will get back to you with assistance.
Cons
Even though receiving regular updates is a good thing, it can sometimes prove to be quite frustrating when certain features are being removed and added frequently while they are being used.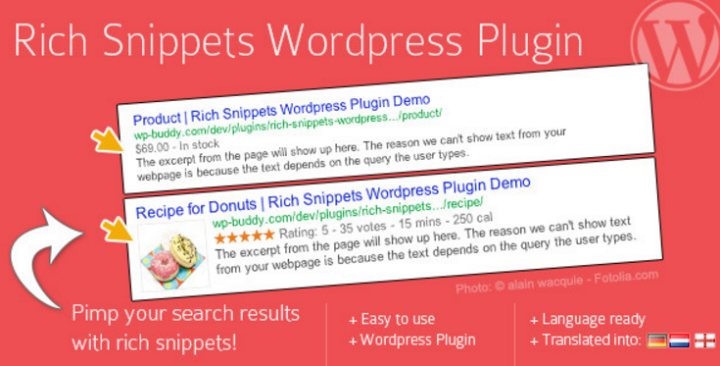 Rich Snippets WordPress Plugin is just another example of a flexible plugin that can be used to implement rich snippets. This particular plugin ships with pre-installed shortcodes but you also have the option to manually add your own. Anybody having trouble with manually adding shortcodes can find this alternative easy and more comfortable.
Using Rich Snippets WordPress Plugin is by no means rocket science. If you're a beginner in the world of web development then there is a YouTube video created by the developers which you can easily view and learn how to use and understand how this plugin works in less than 10 minutes.
Some of the snippets that are supported are people, business and organizations, recipes, products, music, events and reviews and ratings. This powerful plugin enables users to select one of the snippets, customize its appearance and watch as your website receives a significant traffic spike.
Pros
You can add shortcodes manually as well as use the pre-installed ones that you will be provided with once you install the plugin.
Regular future updates that can assure you that your plugin will not be out of date after a while.
The price of the plugin pays off way more than it costs once you start using it due to its compatibility and excellent performance.
You can integrate more snippets into your plugin than the ones that come with the plugin.
Not very pricey as compared to other plugins.
Cons
These rich snippets are not automatically added to every post of yours. In fact, you have to manually add them to each.
The rich snippet that appears on your page can not be predicted beforehand because it depends on what the visitor types so there is no actual guarantee that it will appear on the search engine.

WP Rich Snippets is an incredibly powerful rich snippets plugin for WordPress. It enables webmasters to set up all kinds of rich snippets on their site instantly. Users can choose to display star ratings, images, media items, and even tiny details that deliver value to your potential readers from the get-go. WP Rich Snippets ensures that your content will stand out in the search results and captivate your viewership's attention. All that WP Rich Snippets need in order to work and perform correctly is WordPress version 3.9+ and that's all.
WP Rich snippets pricing plan includes the following prices:
Personal – includes one license for one site, one year support and back to back updates for $69 per year.
Plus – includes three licenses for three websites with one year of support and back to back updates for $99 per year.
Professional – includes unlimited website licenses for you with one year of support and one year of updates for $199 per year. As you can tell by the name of this pricing plan, this is used mostly for professional use so if you have the aim to make less than 5 websites then this is not recommended.
Ultimate – includes unlimited licenses for websites, unlimited support and unlimited updates for $399 per year. You can also purchase add-ons separately.
Pros
This premium plugin has a 30-day return policy which means that in return for the plugin you can get all of your money back without having to give too many reasons or being asked questions.
Excellent customer support is provided to all of their customers so if you have any questions or issues then the support staff is always available to help you out.
Cons
This plugin is very pricey as compared to other plugins. So, you might have to empty your wallets in order to get this one.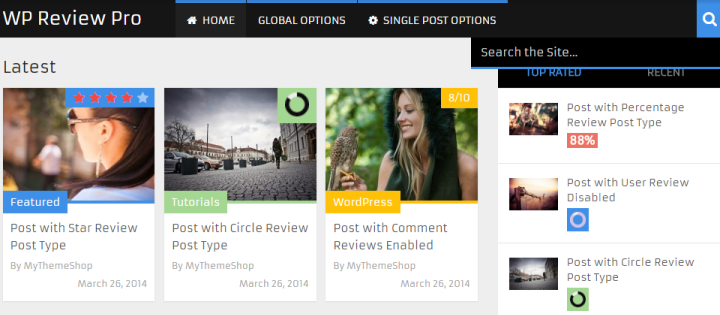 Another excellent plugin that can be used and can give you great advantages when it comes to building your website and also getting rich snippets, all in the same plugin is WP Review Pro. This powerful plugin can be used by professional web developers who wish to have their websites stand out in search results and rank better. WP Review Pro also works to increase incoming traffic to your site by attracting visitors through the use of rich snippets. The WP Review Pro plugin is super easy to get started with and doesn't require any coding.
WP Review Pro ships with multiple rating systems so you can use any type of rating elements whether it is displaying your ratings through percentages or circle system – it is all up to you. In addition to this, it helps you create impressive rich snippets that give a professional appearance to the readers in the search results and delivers more value.
Pros
WP Review Pro is not just a plugin to add rich snippets. If you're building a review website and require a rich snippet solution, you can get both of these in one plugin.
At $39, it is less pricey than most plugins.
It is fully responsive.
The support is also incredible and all of the WP Review Pro staff members are prepared to help out if you encounter any issues.
Cons
If you've already built your website and now you need a separate plugin then this won't work for you.

Last on our list is another excellent plugin for reviews and rich snippets called WP Product Review. If you have built your website on a WordPress platform then you're in luck because WordPress provides you with top notch plugins for anything that you require for your website including rich snippets. WP Product Review is available in both free and premium flavors.
WP Product Review offers a variety of features that you can use to give your website an amazing and eye catching look in the search results. Some of these features include latest products widgets, pros and cons section, rich snippet support, affiliate button, and user reviews. Other than these features are the custom icons, shortcode support, and pre-loader functionality that are only available with the premium plugin's license.
Pros
You can get a free version of this plugin as well without having to spend a single penny in order to make your website eye catching in the search results.
It is quite customizable so you can adjust and customize your overall appearance as per your site's requirements.
At $26, the premium version of this plugin is still less pricey than you would pay as compared to other plugins.
Cons
Since it is a review or rating plugins, its main focus might not be rich snippets so if you're looking for a plugin that only focus on rich snippets and how to get excellent ones then this might not meet your needs.
Wrapping It Up
Adding rich snippets is one of those details that is quite important and can result in a huge increase in a website's traffic. We covered some of the best rich snippet plugins for WordPress in this post. To find the one that will work best on your site, you first need to evaluate what features you look for in rich snippets plugin and identify what you want the final outcome to be.
We hope this post helped you find the perfect rich snippet WordPress plugin. You may also want to see our post on best contact form plugins.
Which rich snippet plugins have you tried out? Which features are most important to you in a rich snippets plugin? We'd love to hear from you so let us know in the comments section below!
To show main source of content:
https://www.designbombs.com/best-rich-snippets-plugins-wordpress/